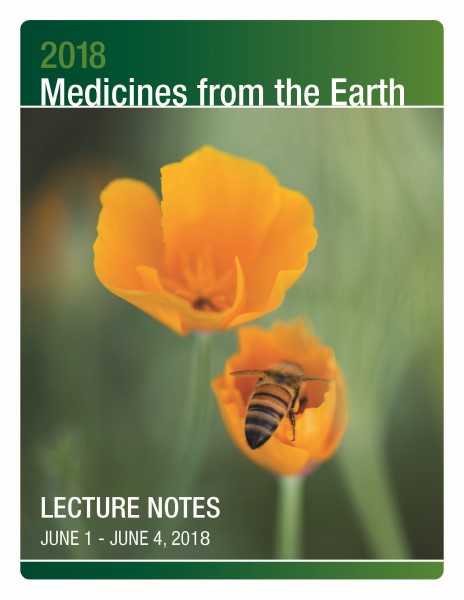 2018 Medicines from the Earth Herb Symposium: Conference Book.
Order download of PDF file on this page.
PDF file includes 426 pages of lecture notes and power point presentations by speakers at this event.


TABLE OF CONTENTS

Teresa Boardwine

Page

Inside/Outside Applications for Joint & Tissue Inflammation

1

Autoimmune Recovery Plan

5

Mary Bove, ND

What Type is your Headache? Botanical Therapies

12

COPD and Women: How Herbs Can Help

22

The Many Virtues of the Mint Family

27

Amanda McQuade Crawford, MA, RH(AHG)


Botanical Medicine in a Clinical Psychology Practice

35

Helping People Cope with Loss

59

Hormonal Depression in Women

87

Walter Crinnion, ND

Environmental Impact on Sexual Development and Reproductive Ability

104

The Absolute Necessity of Preconception Care

118

Mycotoxins - The Health Effects of Mold: Diagnosis and Treatment

132

Chris Kilham

Encounters with the Shaman's Pharmacy (Peru)

146

Panel: My New Favorite Herb

167

Kat Maier, RH(AHG)

Hysterectomies – Herbal Tools for Prevention

169

Energetics of Menses/Moon Time and PMS

182

Robin McGee


Beginner's Guide to Making Tinctures at Home

190

Kenneth Proefrock, ND

Kratom Chemistry and Clinical Applications


194

Terpenoid Chemistry for Herbalists


209

Relating Heart and Lung Sounds to Specific Herbal Remedies in the Eclectic Tradition

225

Naturopathic Considerations in the Treatment of Seizure Disorders

240

CoreyPine Shane




Botanical Medicine for Mild to Moderate ADHD in Adults

255




Herbs to Lift the Spirits

258




Panel Discussion

261

Vickie Shufer, MS

Foraging for Health – A Seasonal Approach

262

Jill Stansbury, ND

Anthraquinone Glycosides: A Practical Review

269

Medicinal Uses of Plants in the Solanacea Family

284

Dementia, Cognition, Alzheimer's Disease: Botanical and Natural Interventions

301

Marc Williams

Challenges and Opportunities with Exotic Invasive Plants

315

Invasive Plants Chart

331

David Winston, RH(AHG)

Herbal Synergy: A Key to Effective Herbal Medicine

337

Pao Zhi- The Alchemy of Herbs

352

Donald Yance


Botanical and Nutritional Medicine for the Prevention and Treatment of Chemotherapy-Induced Peripheral Neuropathy

354

The Role of Botanical Medicine in Chemotherapy: Recent Research and Clinical Experience, Part 1

380

The Role of Botanical Medicine in Chemotherapy: Recent Research and Clinical Experience, Part 2

402
Printed copy of this book is available from
Amazon.com
It has been edited for readability.
2018 Medicines from the Earth Herb Symposium: Conference Book Download (PDF)
Product Code: 18MEN
Availability: In Stock
This product has a maximum quantity of 1
Related Products