2005 Southwest Conference on Botanical Medicines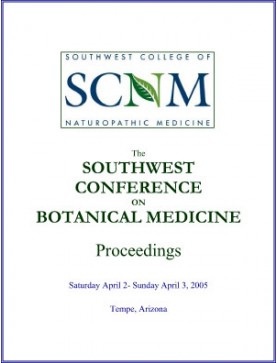 Date: 4/2/2005 - 4/3/2005
Annual conference at the Southwest College of Naturopathic Medicine featured these topics and more: the ritual uses of herbs, herbs for balancing midlife, botanicals for thyroid disease, the pharmacy of flowers, herbs for migraines and headache, the antiviral materia medica, comparison of immune remedies, lesser-known botanicals for women's health, the learning gardens in our schools, men's health, cardiac glycosides and clinical practice, non-toxic protocols for advanced cancer management and a panel on the alternatives to Statin drugs for managing cholesterol.

Purchase the digital download of the lecture notes (PDF) and recordings (MP3) here on our website (see product listing on this page).

Printed book of lecture notes available by special order. Contact us for information.

---
Showing 1 to 23 of 23 (1 Pages)