2016 Southwest Conference on Botanical Medicine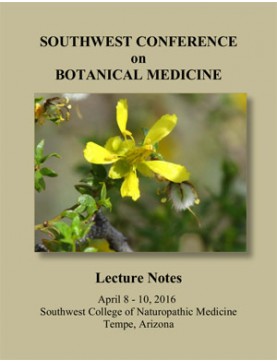 Date: 4/08/2016 - 4/10/2016
Presented at the Southwest College of Naturopathic Medicine, this conference featured a full schedule of clinically-oriented lectures, including integrating the latest research on reproductive (and other) conditions with botanical medicine. See the full listing of lectures below. Included are presentations on botanicals for autism, women's thyroid health, adolescent hormonal changes, infertility, aromatase excess syndrome, prostate cancer, BPH, hair loss, luteal phase deficiency, endomtriosis, sexual health and more.
Also featured is the pre-conference intensive with Donald Yance: New Drugs in Cancer and Synergistic Natural Medicines, a 3.5 hour presentation offered for pharmacy credits for naturopathic physicians.

Purchase the digital download of the lecture notes (PDF) and recordings (MP3) here on our website (see product listings below).
The
printed
book of lecture notes is available externally from
Amazon.com
---
Interested in Continuing Education credits? Learn about Nursing CNE, CME for Naturopathic Physicians, and PDA CEU for Acupuncturists.
---
Showing 1 to 30 of 30 (1 Pages)