2020 Medicines from the Earth Herb Symposium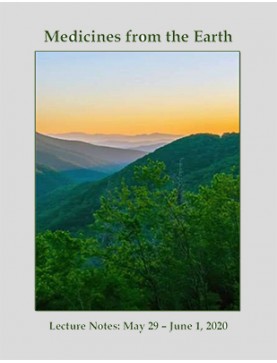 Date: 5/29/2020 - 6/1/2020
Theme of this year's annual symposium: Restoring Immunological Balance with Botanicals. Thirty-seven presentations by eighteen experienced herbal practitioners. Some highlights:
Women, Autoimmunity and Estrogen Metabolism with Mary Bove, ND
Keynote Address on Shinrin Yoku (Forest Bathing) with Chanchal Cabrera, RH (AHG)
Combining Herbs and Essential Oils for Anxiety, Cognitive Ability and Musculoskeletal Conditions with David Crow, LAc
Special two-hour workshop on Cultivation and Ecology of Native Plants with Joe Hollis at Mountain Gardens
Neuroplasticity and the NMDA Receptor with Kenneth Proefrock, ND
Anxiety: More Than an Over-Aroused State with Mary Rondeau, ND
Research Considerations for Microdosing Entheogens with Katie Stage, ND
The Ethnobotany of the African Diaspora with Marc Williams
Substance Addiction and Recovery with Jennifer Williams, PhD, DACM
Restorative and Nutritive Tonics with David Winston, RH (AHG)
4-hour intensive on Mitigating the Effects of Glyphosate and other Environmental Toxins with Donald Yance, RH (AHG)
And three panel discussions with Q & A following
Purchase the digital download of the lecture notes (PDF) and recordings (MP3) here on our website (see product listings below).
Or purchase videos of these presentations here.
---
Interested in Continuing Education credits? Learn about Naturopathic CE / CME and Nursing Contact Hours / CNE
---
Showing 1 to 39 of 39 (1 Pages)