2021 Medicines from the Earth Herb Symposium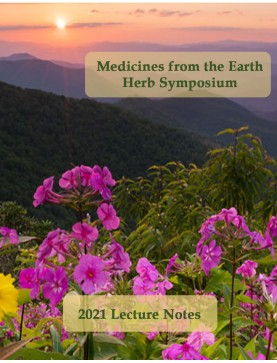 Date: 6/4/21 - 6/7/21
Theme of this year's annual symposium: Building Mental and Physical Resilience with Botanicals. Thirty-two presentations by fourteen experienced herbal practitioners. Some highlights:
Effective Pain Relief with Botanical and Nutritional Medicine with David Winston, RH (AHG)
Panel Discussion: Restoring Mental Health in the 21st Century: Managing Chronic Overwhelm with Jill Stansbury, Jill Crista and Kenneth Proefrock
A Seasonal Model for Working with Depression with Kat Maier, RH (AHG)
Conquering Toxic Mold Exposure with Jill Crista, ND
Vaporizer Technologies: Safety Considerations and a Mechanism for the Delivery of Botanical Medicine with Kenneth Proefrock, NMD
Restoring Mitchondrial Function in Mental Health with Mary Rondeau, ND
Clinical Uses of Autumn Crocus (Colchicum autumnale) with Jill Stansbury, ND
Botanical Medicine Targeting Cancer Stem Cells with Donald Yance, RH (AHG)
Post-Infectioous Autoimmune Encephalopathies (PANDAS and PANS) with Jill Crista, ND
Pre-conference Intensive: Targeting the Biological Terrain in Collaborative Oncology with Jason Miller, DACM, LAc
And more!
Purchase the digital download of the lecture notes (PDF) and recordings (MP3) here on our website (see product listings below).
---
Showing 1 to 33 of 33 (1 Pages)