2019 Medicines from the Earth Herb Symposium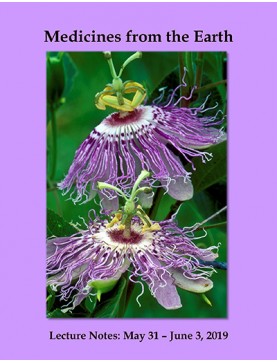 Date: 5/31/19 - 6/3/19
Annual conference at beautiful Blue Ridge Assembly in Black Mountain, North Carolina.
This year's event featured a variety of presentations on aging (cancer and our aging genome; preserving brain functioning as we age; depression in the elderly; stroke recovery; organ reserve: aging gracefully; eye health including cataracts, glaucoma, etc; aging and stress, and preparing foods to promote longevity). The keynote address with Leo Trasande, MD, MPP, focused on how to avoid the endocrine disrupting chemicals in our food and environment--and this was followed by the panel discussion "Managing the Effects of Endocrine Disruptors with Botanical Medicine: Neurological Development, Cancer and Autism."
There are many more topics to choose from including breast cancer update; backyard herbal first aid; lung conditions; non-alcolholic fatty liver and gallblader conditions; enhancing the dream state with botanicals; mood disorders; ADD and ADHD; botanical management of different types of pain; 28 Ayurvedic and Chinese herbs western practitioners need to know and much more!
Featured speakers include Lise Alschuler, Teresa Boardwine, Mary Bove, Kathleen Maier, Jason Miller, Kenneth Proefrock, Mary Rondeau, Kevin Spelman, Jill Stansbury, Leo Trasande and David Winston. The clinical case review panel was a real highlight! Full listing of all recordings below.
Purchase the digital download of the lecture notes (PDF) and recordings (MP3) here on our website (see product listings below).
The printed book of lecture notes is available for $40. Available on Amazon.com.
---
Interested in Continuing Education credits? Learn about Nursing CEU, Naturopathic continuing education (CME), and PDA CEU for Acupuncturists.
---
Showing 1 to 34 of 34 (1 Pages)