2019 Southwest Conference on Botanical Medicine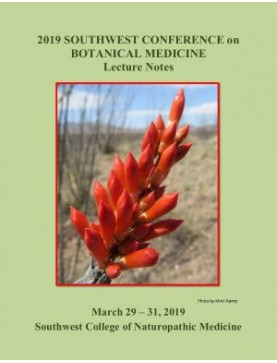 Date: 3/29/19 - 3/31/19
This annual herbal conference at the Southwest College of Naturopathic Medicine in Tempe, Arizona, features some of the country's most experienced herbal practitioners and teachers. Topics include botanical therapies for restoring gut health, cultivating focus & attention and treating musculoskeletal injuries. Includes botanical therapies for pain, inflammation, causes of CV disease, exposure to molds and mycotoxins, obesity and opiate withdrawal. Other lectures focus on the best harvesting and medicine-making techniques for essential oils, syrups and plant essences. Also includes these advanced therapeutic topics: Panel on immunotherapy and botanicals in cancer therapeutics; understanding aging; and managing neurological and cognitive decline (two-part intensive with Jason Miller, DACM, LAc). Full listing of all recordings below.
Purchase the digital download of the lecture notes (PDF) and recordings (MP3) here on our website (see product listings below).
The printed book of lecture notes is available for $30. Available on Amazon.com.
---
Interested in Continuing Education credits? Learn about Nursing CEU, Naturopathic CE / CME, and PDA CEU for Acupuncturists.
---
Showing 1 to 32 of 32 (1 Pages)