2015 Southwest Conference on Botanical Medicine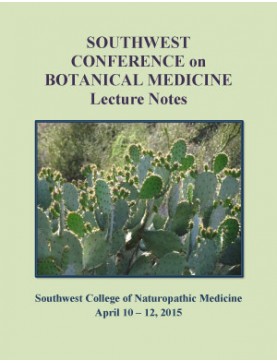 Date: 4/10/2015 - 4/12/2015
Presented at the Southwest College of Naturopathic Medicine, this conference featured a full schedule of clinically-oriented lectures, including the cytokine connection to insomnia, working with PTSD, analgesia and pain relief, the human microbiome, alternatives to common psychiatric medications, botanicals for trauma, bereavement and loss, and a panel discussion on the latest research on alternative therapies for mental illness. Special feature: complete recording of the four-hour intensive with Kenneth Proefrock: Therapeutic Uses of the Cannabinoids and other Cannabis Compounds. See description below.

Purchase the digital download of the lecture notes (PDF) and recordings (MP3) here on our website (see product listing on this page).
The printed book of lecture notes is available externally from Amazon.com.

---
Interested in Continuing Education credits? Learn about Nursing CEU, CME for Naturopathic Physicians, and PDA CEU for Acupuncturists.
---
Showing 1 to 32 of 32 (1 Pages)