2001 Medicines from the Earth Conference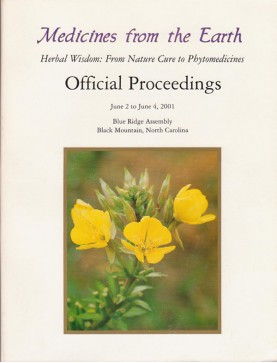 June 2 – 4, 2001
Annual symposium at Blue Ridge Assembly in Black Mountain, NC. Speakers: Rosita Arvigo, Kerry bone, Mary Bove, Chanchal Cabrera, Ryan Drum, Bruce Ferguson DVM, Deborah Frances, Bill Mitchell, Aviva Romm, Robert Rountree, Bill Schoenbart, Roy Upton, David Winston, Donald Yance and others.
Topics: Maya healing, Alzheimer's disease, luteal phase deficiency, breast health, herbal analogues to human hormones, nature cure for dogs and cats, plants as teachers, lymph and liver,specific problems of aging, herpes infection, avoiding antibiotics in pediatric care, herb/drug interactions, liver enzyme pathways/detoxification, connective tissue research, Traditional Chinese Medicine therapeutics (asthma, cancer, differential diagnosis), Cherokee medicine, wilderness first aid and more!
The printed book of lecture notes is available by special order. Contact us here.
---
Interested in Continuing Education credits? Learn about Nursing CEU, CME for Naturopathic Physicians, and PDA CEU for Acupuncturists.
---
Showing 1 to 43 of 43 (1 Pages)