2003 Southwest Conference on Botanical Medicine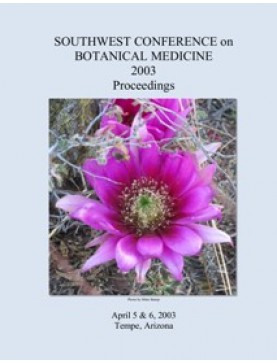 Date: 4/5/2003 - 4/6/2003
Presented at the Southwest College of Naturopathic Medicine in Tempe, Arizona, this conference featured botanicals for acute febrile illness, childhood nephrotic syndrome, coughs, detoxification from environmental chemical exposure, diabetes, autoimmune conditions, neurodegeneration due to Alzheimer's disease, hyperlipidemia and insomnia. The panel discussion covered botanical therapies for pelvic stagnation, and a presentation on the clinical uses of toxic botanicals and little-known southwestern plants rounded out the program.

Speakers: Paul Bergner, Deborah Brammer, Yong Deng, Deborah Frances, Cascade Anderson Geller, Bill Mitchell, Michael Moore, Kenneth Proefrock, Robert Rountree and Jill Stansbury.
Purchase the digital download of the lecture notes (PDF) and recordings (MP3) here on our website (see product listing on this page).
Printed book of lecture notes available by special order. Contact us for information.
---
Showing 1 to 24 of 24 (1 Pages)