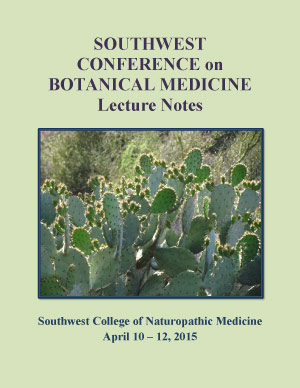 2015 Southwest Conference on Botanical Medicine: Conference Book.
Order download of PDF file on this page.
PDF file includes 289 pages of lecture notes and power point presentations by speakers at this event.


Please note: Two articles aren't included in the printed version since they were submitted later on. Kenneth Proefrock's Cannabis article and Amanda McQuade Crawford's Trauma and Bereavement They are, however, available in the online (download) version.

TABLE OF CONTENTS

Paul Bergner

Page

Topical Herbs: Methods and Applications

1

Using Yin Tonics in the Western Paradigm

11

Tonics vs. Relaxants: The Forgotten Polarity of Physiomedical Herbalism

16

Jane Bothwell

Percolation Method of Preparing Tinctures

19

Healing the Heart

21

Mary Bove, ND

Botanical Insights into Early Childhood Caries/ECC

26

The Cytokine Connection to Insomnia

34

The Simplicity of Simples

44

Amanda McQuade Crawford, MA, RH (AHG)

Hospice Care and Herbal Medicine

50

Herbs for Trauma, Bereavement and Loss
(Online book only)

69

Panel: Latest Research on Alternative Therapies for Mental Illness

83

Herbal Medicine and Weight Management

95

David Crow

Essential Oils and Contagion: Facts and Fantasies

111

Corsican Helichrysum: The New Gold Rush

118

Aromatherapy and Mental Health: Perspectives from Traditional Chinese and Ayurvedic Medicine

124

Christopher Hobbs, PhD

Healing Sleep

128

The Human Microbiome

139

Kenneth Proefrock, ND

Therapeutic Uses of the Cannabinoids and other Cannabis Compounds
(Online book only)

147

Blood Dyscrasias-From Multiple Myeloma to the Leukemias – Botanical Considerations

177

Traumatic Brain Injuries-Naturopathic Approaches to the Treatment of Cerebral Palsy, Strokes, TIA's, Concussions and Concussion Syndrome

187

JoAnn Sanchez

The Medicine Garden: A Powerful Tool for Healing

203

Katie Stage, ND

Working with PTSD

207

Jill Stansbury, ND

High Mineral Herbs for the Connective Tissue: Review, Reminders and Recipes

222

Botanical Therapies for Interstitial Cystitis

241

Common Psych Meds: Seeking Alternatives

252

David Winston, RH(AHG)

Analgesia: The Search for Effective Pain Relief

270

Botanical and Nutritional Protocols for Asthma

279

Men's Health Issues: Herbal and Nutritional Treatment for Common Genito-Urinary Problems

289
Printed copy of this book is available from
Amazon.com
2015 Southwest Conference on Botanical Medicine: Conference Book Download (PDF)
Product Code: 15SWN
Availability: In Stock
This product has a maximum quantity of 1
Related Products