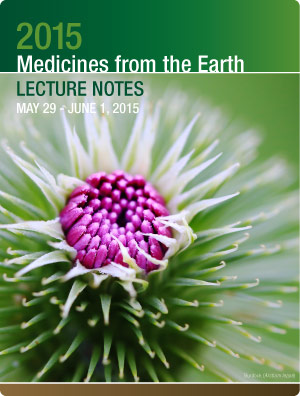 2015 Medicines from the Earth Herb Symposium: Conference Book.
Order download of PDF file on this page.
PDF file includes 357 pages of lecture notes and power point presentations by speakers at this event.


Please note: One article isn't included in the printed version since it was submitted later on. Donald Yance's New Drugs in Cancer. It is, however, available in the online (download) version.

TABLE OF CONTENTS

7Song

Page

Wildcrafting for the Practicing Herbalist

1

Mary Bove, ND


Botanical Tools for Managing Panic Disorders

10

Kitchen Medicine

15

Jerry Cott, PhD.




Omega-3 Fatty Acids for Brain Health: Building, Maintaining and Re-Modeling


31




Herbal Medicines and Psychopharmaceuticals:The Unsettled Mind in the Age of Anxiety


42

Walter Crinnion, ND

Telomeres: Telomerase and How to use botanicals to Re-ignite your Stem Cells

50

The Role of the Most Commonly Used OTC Pharmaceuticals and Common Environmental Toxicants in Dementia

61

The Neurotoxic Presentations of Environmental Toxicants

74

Steven Johnson, DO







Early Childhood Development as a Basis for Mental Health


87




Psychiatric/Soul Illness in Adults


88

Robin McGee

Making Healthy Fizzy Herbal Sodas


129

Kenneth Proefrock, ND

Spectres on the Spectrum—Biopsychological Considerations for Developing Interventional Strategies for Autistic Spectrum Disorders with Nutritional, Environmental, and Botanical Elements

131

Naturopathic Approaches to the Treatment of Neurologic Trauma; From Traumatic Brain Injuries to Multiple Chemical Sensitivities

144

Nutritional and Botanical Interventions for Mental Illness as a Consequence of Terminal Diagnosis

153

Dr. Shubhangee Satam

Ayurvedic Prevention and Treatment of Skin Disorders

163

Aging Brain : Ayurvedic Therapies for Mental Health

169

Management of ADHD in Children through Ayurveda

177

Vickie Shufer

Wild Herbal Teas, Tinctures, & Vinegars

183

Kevin Spelman, PhD, MCPP, CNS


The Molecular Biology of Immunomodulators

189

The Endocannabinoid System and Some Common Plant Triggers

228

The Influence of Cannabis on the Psyche

241

Jill Stansbury, ND

Botanical Influences on Neurotransmitters and Mood

253

Addiction Pathophysiology and Herbal Interventions

278

David Winston, RH(AHG)

Botanical/Nutritional Protocols for Insomnia and Other Sleep Disorders.

301

Tick-Borne Diseases: An Update on Their Effective Treatment, Including the Use of Botanical and Complementary Therapies

308

Donald Yance, MH, CN, RH (AHG), SFO


Intensive: Recent Research Linking Stress to Cancer and Morbidity

319

Mood Disorders: An Integrative Approach to Reducing or Eliminating Pharmaceuticals, Part 1

346

Mood Disorders: An Integrative Approach, Part 2

357
Printed copy of this book is available from
Amazon.com
2015 Medicines from the Earth Herb Symposium: Conference Book Download (PDF)
Product Code: 15MEN
Availability: In Stock
This product has a maximum quantity of 1
Related Products