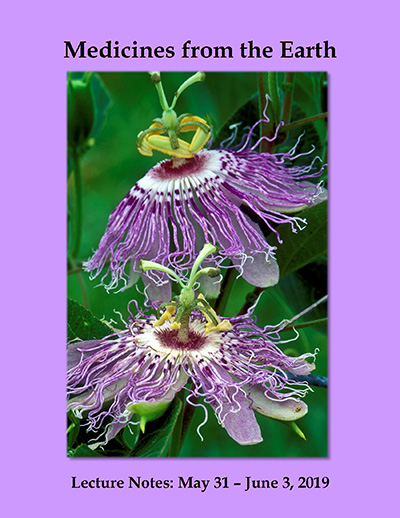 2019 Medicines from the Earth Herb Symposium: Conference Book.
Order download of PDF file on this page.
PDF file includes 361 pages of lecture notes and power point presentations by speakers at this event.


TABLE OF CONTENTS

Lise Alschuler, ND

Page

A Tale of Cancer and our Aging Genome


1

Breast Cancer Update & Overview of Integrative Risk Reduction

21

The Impact of Stress on Accelerated Aging: Botanical Remediation

39

Teresa Boardwine, RH(AHG)




Longevity Elixirs, Foods & Recipes

85

Trauma Informed Holistic Health Care: Herbal Protocol

87

Mary Bove, ND

Staying Sharp Longer: Keep Your Synapses Firing with Brain Boosting Herbs

97

Calm, Cool and Uplifted with Mood Enhancing Plants

108

Pre-Pregnancy Prep for Male and Female

113

Jeannie Dunn and Tricia Shapiro


Backyard Herbal First Aid Kit

120

Kat Maier, RH(AHG)

Deep Lung Medicine: Herbs for Chronic Bronchitis and Asthma

125

Five Favorite Plants for the Clinician

138

Jason Miller, DACM, LAc


Demystifying Detoxification

145

Medicinal Plants and Cellular Receptor Networks

154

Kenneth Proefrock, ND

The Persistence of Memory: Oneirogenic Plant Medicines, Personal Identity and the Dream State

165

Effective Botanical Prescriptions for Conditions of the Eye: Including Cataracts, Glaucoma, Allergy and Conjunctivitis

182

Botanical Interventions in the Treatment of Liver Conditions-Including Fatty Liver Disease, Fibrosis, and Gall Bladder Dysfunction

189

Mary Rondeau, ND, RH(AHG)

Treatment of Mood Disorders with Botanicals, Lifestyle, Diet and Nutraceuticals

205

ADD and ADHD in Adults and Children: Assessment, Laboratory Considerations and Treatment

219

The Anti-Aging Power of Sleep

231

Kevin Spelman, PhD

Organ Reserve: Aging Gracefully

242

Phytochemical Pleiotropy in Neurology

261

Jill Stansbury, ND

Botanical Options for Pain Management

280

Depression in the Elderly

296

Botanical Therapies for Stroke Recovery

311

David Winston, RH(AHG)

Nervines: Building a Better Foundation for the Nervous System

325

28 TCM & Ayurvedic Herbs that Western Clinicians Need to Know

336

7Song, Herbalist

Clinically Useful Plants and Formulas for the Practicing Herbalist

350

Herbalism for the Post-Collapse: Dystopian Herbal Medicine - Rise of the Herbalist

357
Printed copy of this book is available from
Amazon.com
It has been edited for readability.
2019 Medicines from the Earth Herb Symposium: Conference Book Download (PDF)
Product Code: 19MEN
Availability: In Stock
This product has a maximum quantity of 1
Related Products