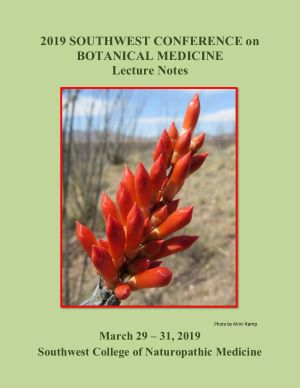 2019 Southwest Conference on Botanical Medicine: Conference Book.
Order download of PDF file on this page.
PDF file includes 430 pages of lecture notes and power point presentations by speakers at this event.
TABLE OF CONTENTS

Paul Bergner

Page

Nutritive Herbs: Essential Therapeutics in the 21st Century

1

Useful Syndromes from Chinese Medicine for the Western Herbalist

9

Nutrition in the Herbal Paradigm

14

Mark Blumenthal

The Latest Research on Botanical Adulterants

26

Mary Bove, ND

Herbs for Restoring Gut Mucosal Health and Function

28

The Role of Bitter Herbs for a Healthy Microbiome

38

Cultivating Focus and Attention in Kids with Botanical Medicine


44

Eric Scott Bresselsmith

Demonstration: Artisan Essential Oil Distillation

54

Sam Coffman

Musculoskeletal Injuries – From First Aid to Herbal Healing

66

Understanding Biofilms, Bacterial Infections and Herbal Treatment

74

Phyllis Hogan

C]Drought-Resistant Medicinals in the High Desert of Northern Arizona: Thriving in the Face of Climate Change

81

Feather Jones

Osha: Bear Medicine of the West

84




Osha Syrup

90

Mimi Kamp

Making a Plant (flower) Essence

91

Jeffrey Langland, Ph.D.

Deciphering the Medicinal Properties of Immune Modulatory Botanicals in Comparison to Pharmaceutical Therapies

96

Jason Miller, DACM, LAc

Neurological and Cognitive Decline — Integrating Traditional Solutions with The Latest Research on Brain Function

112

Beyond Cholesterol: Investigating the Role of Testosterone, Calcium, and Inflammation in Cardiovascular Disease

147

The Role of Botanical Medicine in Pain and Inflammation: Botanical Analgesics and Modulators of the Inflammatory Cascade

159

Rhonda PallasDowney

Bridging Herbalism, Aromatherapy, and Flower Essences for Healing: 4 Cleansing Wonders of Mother Nature – Chaparral, Yucca, Pinyon, and Palo Santo

169

Kenneth Proefrock, ND

Naturopathic Strategies for Patients with Exposure to Molds and Mycotoxins

184

Medication Induced Cognitive Decline

209

The Obesity Epidemic: Hormonal and Metabolic Disruption as Underlying Causes (Article)

223

The Obesity Epidemic Powerpoint

230

JoAnn Sanchez

Herbal Pairs: Stepping Stones to Compounding

245

John Slattery

Wild Medicine Fermentation

249

Katie Stage, ND, RH (AHG)

Herbal treatments for Genitourinary Syndrome of Menopause

254

The Health Benefits of Chocolate

273

Jillian Stansbury, ND

Topical Applications for Pain Management

285

Opiate Addiction Pathophysiology and Herbal Interventions

296

Treating Diabetic Peripheral Neuropathy

312

David Winston, RH (AHG)

Differential Treatment of Depression and Anxiety with Botanical and Nutritional Medicines

323

Botanical and Nutritional Treatment of Thyroid Dysfunction

345

Brain Pain: The Herbal/Nutritional Treatment of a Chronic Neurovascular Disorder

360

Donald Yance, RH (AHG)

Understanding Biological Aging and Diversity: Theories, Concepts, Important Biomarkers, and Botanical and Nutritional Solutions, Part 1

375

Understanding Biological Aging and Diversity: Theories, Concepts, Important Biomarkers, and Botanical and Nutritional Solutions, Part 2

397

Panel: Comprehensive Immune Therapy

421
Printed copy of this book is available for $30 plus shipping. Available on
Amazon.com.
2019 Southwest Conference on Botanical Medicine: Conference Book Download (PDF)
Product Code: 19SWN
Availability: In Stock
This product has a maximum quantity of 1
Related Products