2000 Medicines from the Earth Conference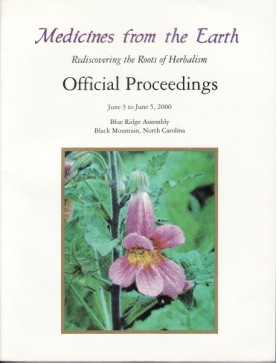 Date: 6/3/2000 - 6/5/2000
Held at Blue Ridge Assembly, Black Mountain, North Carolina
This archival conference recording set includes presentations on Fever, the Vital Response, Thomsonian Herbalism, Techniques for Herbal Prescribing, Mismanagement of Prescription Drugs, along with an iridology series with Bill Caradonna, Ayurvedic presentations on the Three Season Diet with John Douillard, A History of Women in Herbal Medicine with Deborah Frances, Favorite Herbs in my Materia Medica with Cascade Anderson Geller, and Bill Mitchell speaking on Dr. Bastyr's Remedies. Other speakers: Mary Bove, Chanchal Cabrera, Ryan Drum, Rosemary Gladstar, Tori Hudson, Aviva Romm, Jill Stansbury, Michael Tierra, Roy Upton, David Winston and Donald Yance.
The printed book of lecture notes is available by special order. Contact us here.
---
Are you a Naturopathic Doctor seeking continuing education credits? See Naturopathic CE.
---
Showing 1 to 50 of 50 (1 Pages)